Bedding as Self-Care
Few things are as rewarding as sleeping in your own bed. In fact, we spend about one-third of our lives sleeping, so we should make our beds the best that they can be, and this includes custom bedding.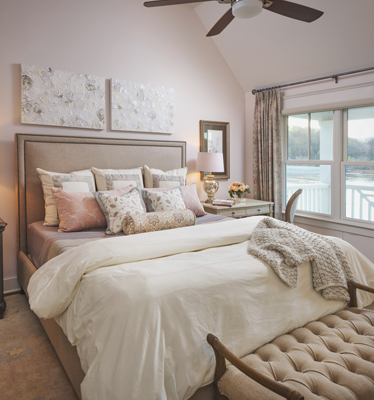 Today, most people understand the value of having a high-quality mattress. But having spent home furnishings dollars on the mattress, few homeowners leave much of a budget to have bed coverings custom-tailored to their style and room décor, and invest in the visual landscape of their sleeping spaces.
Artwork, draperies, furniture, beautiful paint schemes all contribute to a peaceful retreat at the end of the day. But nothing adds more to this than fine tailored coverlets, bedspreads, pillows, and throws. Collapsing into fine bedding in the late hours after a challenging day can be the best reward of all for your hard work.
Pillows! How many is too many?
For a king-sized bed, three 26-inch Euroshams across the headboard, with two king-sized shams in front of the Euros, and a final row of two to three varied toss pillows in the very front is a typical combination. Sound like a lot of pillows to take off of the bed every evening?
Try just a pair of shams in the back with a long single bolster the width of the bed in front of those. Then toss in a tailored pillow or two for a little luxury. This combo can make your bed ensemble look complete but still be inviting enough to coax you into a little indulgent afternoon nap — you deserve it, after all.
And if an extravagant pile of pillows seems more like heaven on earth to you, then go ahead and get them all. Why settle for regular square cushions when you can get virtually any shape you like, from circles to hearts to cylinders and beyond.
Custom bedding for kids? Yes, please.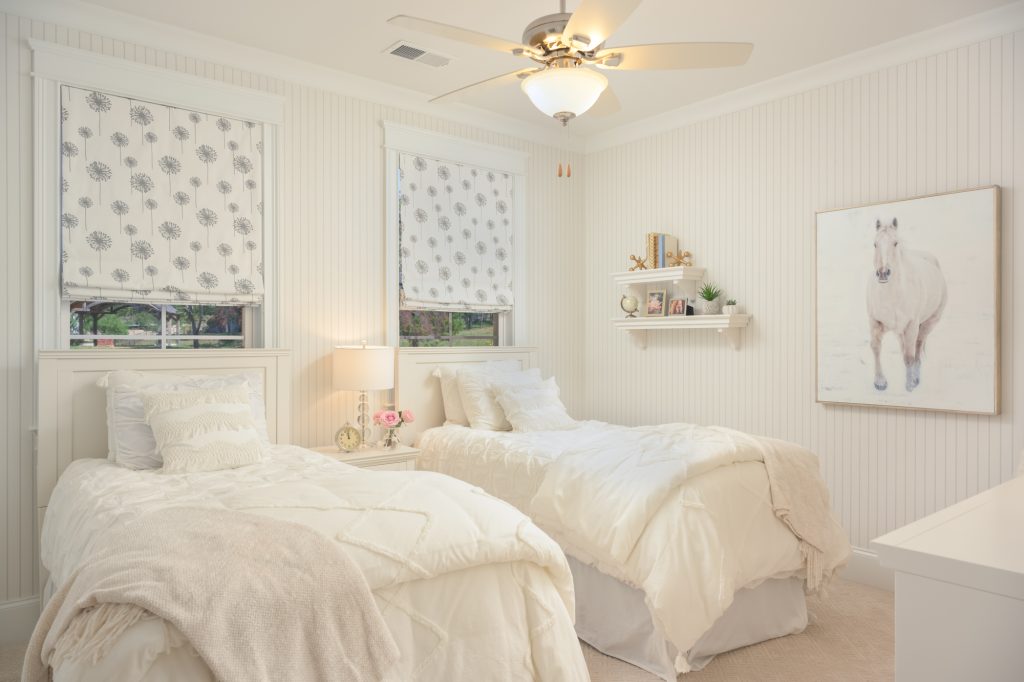 Even children benefit from a creative place to lay their head at night. Bedding tailored in their favorite themes and colors can contribute to a wonderful warm environment that they will always remember and cherish.
You can go all-out with custom-made coverlets or duvets with shams and pillows in fun shapes, or purchase ready-made quilts and add custom complementary pillows and shams and have a special look for a little less. Either way, kids will feel very special with a bedroom that's designed with them in mind and is theirs alone.
Thematic Custom Bedding
While I personally don't love a heavy theme, consistency in design elements is very important throughout your home. Having a subtle theme suggested in an appropriate setting can be really wonderful.
For example, I had clients who requested a "coastal" theme for their new-build condo. We certainly did not use anchors, sand or "Welcome to the Beach" signs, but did use soft coastal colors and items reminiscent of their ocean visits. Incorporating large, beautifully-shaped shells, turquoise glass objects and rustic water-washed woods added the perfect finishing touches. Even though this home is miles from the coast, my clients are now reminded of their happy times on the shore without every item in their new home screaming "BEACH".
Your Bedroom, Your Sanctuary
Your bedroom is one of the most important rooms in your home and is without a doubt your sanctuary: a place to retreat from the stresses of life and be rejuvenated. A place where the world cannot touch you, at least for a while each day. Make transforming your bedroom into your personal retreat a priority using custom bedding, draperies and design, and start reaping the benefits. It's what you've worked for and deserve.
We would love to help you create your own bedroom oasis. Reach out for a free, in-home consultation and let's turn your house into your dream home!