Shades are probably the most versatile of window treatments. They come in a wide variety of materials and features. Some lower from a roll and others descending from a headrail. Your shades control sunlight, insulate and regulate the temperature in your room, and give you needed privacy. They can be elegant or casual, hand-operated or motorized. Whatever your window treatment needs are, there is a shade that will satisfy your requirements and enhance your room.
Roller Shades
The way they work gives roller shades them their name. The fabric unrolls from the top of the window and descends to the sill, or stops at the length needed. They fit easily on most windows and are available in hundreds of texture and color options. They can also be sheer or opaque, light-filtering, or blackout. This gives you the privacy and light-control options you need. Finally, this option is ideal as a base layer for other window treatments, like draperies.
Roman Shades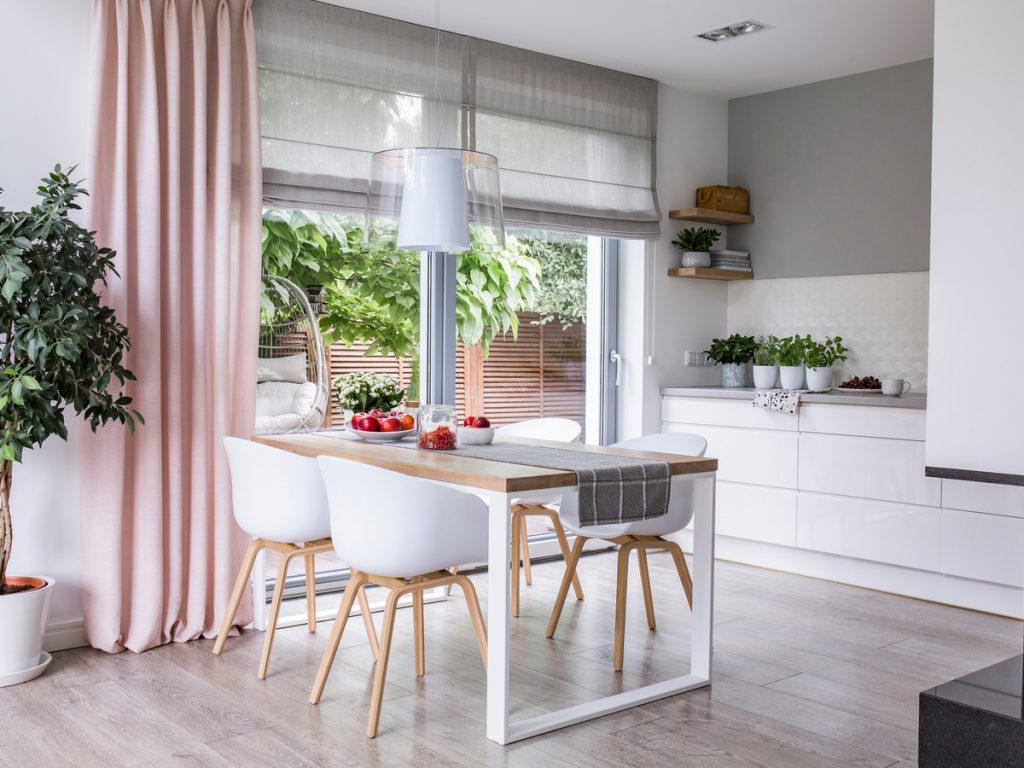 Their name derives from the classic draperies from the era of the Roman Empire. These shades lower or raise in folds, using a corded-style control or motorized controls. They come in hobbled, ribbed, or flat-fold, which tends to be the most common style. Plus, roman shades can be made of the designer fabric of your choice.
Woven Wood
Woven wood is made with beautiful weaves of reeds, grasses, wood fiber, or other natural materials. If you have a particular appreciation for nature or a global design aesthetic, these are your go-to. They provide a unique atmosphere to any room, complementing it with a natural, casual decor. They are available in different styles and operate primarily like a Roman shade, with folds that are raised or lowered.
Cellular Shades
Cellular shades have a particular honeycomb construction which ingeniously insulates your windows. Some options feature inner cell construction, such as the Duette Architella style from Hunter Douglas. These shades are excellent for regulating the temperature of your room, keeping cold out and heat in during the winter. Or keeping your cold air in during the hot summer months. If you are concerned about energy consumption, these are the best choice for you.
Cellular shades offer a wide range of light filtering properties from moderate to dark. They come in a big range of colors and textures, and are well-suited for larger windows in contemporary-style spaces. One of their most advantageous features is that they collapse to a very compact size when raised. This takes the fabric almost completely off of the window and preserves your view.
Pleated
A very affordable option, pleated shades are made of a single sheet of material that folds accordion-style. They look similar to cellular shades with only have one layer, thus making them less effective at energy efficiency. These come in a variety of materials and colors, including whimsical patterns and sophisticated textures.
Panel Track Shades
Panel track shades work like vertical blinds, sliding back and forth across a track. Unlike vertical blinds, they have several wide panels that stack up together when the cord is pulled. Because of this, panel tracks work well for dressing large windows or sliding glass doors. They also lend a modern look to your décor while providing light control and privacy.
We Are Here to Help
Shades change the look of your room significantly, making it look well-furnished while providing light and temperature control. However, with so many types, styles, and features available, choosing the best shades can be difficult. Fortunately, we bring experience and a fresh perspective to your space. We are here to ensure that your project is completed with excellence and in a timely fashion. Ask for a free estimate here.
Sources: Housely